Arctic Open
In Iowa when you can't play golf on a regular course during the winter, you figure out a way to set one up somewhere else. That's exactly what the Lake View Men's Club does. Each year on the first Saturday of February, the Club hosts the Arctic Open Golf Tournament on the frozen waters of Black Hawk Lake. This unique annual event brings many local residents and visitors to the area to enjoy a game of golf in the winter! When the tournament is over, the group moves to a local establishment to warm up and enjoy a bite to eat.


Pelican Pedal
It's not spring in Lake View until the pelicans arrive, and we celebrate that time of year with a full day of festivities called Pelican Pedal. Started a decade ago, this event includes a pancake breakfast, the Pelican Pedal bike ride around Black Hawk Lake and a pizza party at Thirsty Carp to cap off the day.  It's a great way to celebrate the beginning of spring.


Sauk Rail Trail Ride

Each spring the bike coalition organizes the Spring Ride, a family-friendly event with free admission and live music. Participants ride the hard-surfaced 33-mile Sauk Rail Trail from any point to Maple River.  Other organized bike rides take place on and off the trail throughout the summer. The perfect place to enjoy nature and social distance.


Farmers Market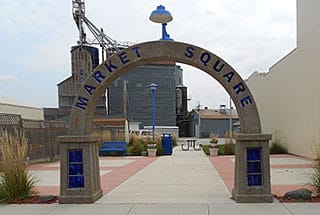 Each year from May through September, Lake View hosts the Farmers Market on Main Street. Open each Saturday from 8 a.m. to Noon, you can find everything from produce and baked goods, to handmade items and much more. Due to COVID-19 restrictions, the Farmers Market won't open until later this summer. We are hoping to have it operational by July.


Memorial Day Events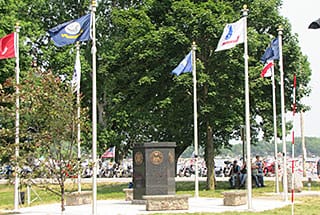 Memorial Day marks the beginning of the summer season in Lake View. The long weekend includes the traditional city-wide garage sales, opening of the Farmers Market and the Lake View Museum and a memorial service at our Speaker Park Veterans Memorial. Due to COVID-19 restrictions, most of our Memorial Day events have been cancelled. We will be having Garage Sales though.
Reel Fun Fishing Tournament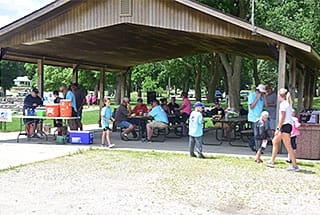 This annual fishing tournament was started a couple of years ago by then eleven-year-old, Tate Lahr. A local boy that loves fishing, he's put together a pan fish tournament that now has approximately 100 fishermen vying for $1000 in prize money along with a slew of wonderful raffle prizes. The tournament is held the first weekend of June and coincides with the DNR's free fishing weekend, where no fishing license is required.  Tate donates all proceeds from the tournament to the Black Hawk Lake Protective Association to help them achieve their mission of continually improving the lake. Due to COVID-19 restrictions, this has been cancelled for this year.
 Sip and Sample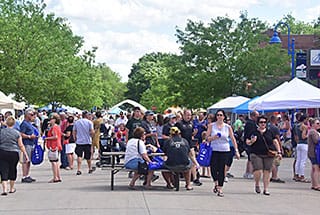 Sip and Sample is Lake View's annual wine festival. Held on Main Street the first weekend in June, the event features nearly 50 vendors offering everything from beverages to home décor and personal items. For a nominal fee, attendees can purchase a commemorative sipping glass and spend the afternoon browsing the different vendors while sampling beverages from area wineries, distilleries and breweries.  The Farmers Market stays open for the afternoon and live music is available to enhance the ambiance. Due to COVID-19 restrictions this event is cancelled for this year.
Stone Pier Concerts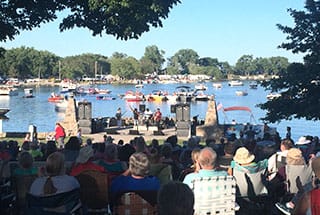 This popular annual event hosts four or five free concerts throughout the summer on the historic West Stone Pier beside beautiful Black Hawk Lake. Featuring renowned acts from around the country, the series offers a wide range of genres including everything from indie pop and alternative rock to Americana and country. There is no admission charge or ticket required to attend the concerts, and visitors are welcome to listen both on the shore or by boat. These picnic-style performances allow concertgoers to purchase food at the venue or bring their own. The popular "Burger Boat", operated by the Lake View Fire Department delivers food to fans attending by boat on Black Hawk Lake.
Read More >
Water Carnival

An annual tradition that began more than six decades ago, the Black Hawk Lake Summer Water Carnival takes place each year on the third full weekend of July. Started in 1952 as a small carnival with dances and boat races, the event now attracts over 20,000 visitors to the shore of Black Hawk Lake. The water carnival offers many different festival activities taking place from Friday evening to Sunday evening. Visitors can enjoy midway rides by McDermott Shows and local food/entertainment stands that open on Friday and run all weekend long.  In addition to all of that, there is entertainment on or near the West Stone Pier each day. As always, there is no admission charge to enjoy the entertainment at Summer Water Carnival. Come and join us for one of the area's most beloved celebrations year after year!
Read More >
Ronald's Road Rally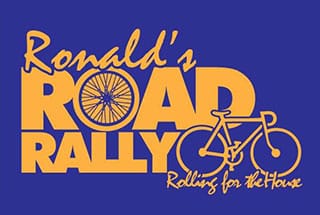 This annual bike ride takes place on Labor Day weekend and is a fun family event that helps to raise funds for Ronald McDonald House Charities. Offering two different routes, the ride is on the Sauk Rail Trail and around beautiful Black Hawk Lake. Ending at the West Stone Pier on the shores of Black Hawk Lake, the event closes with the season's final Stone Pier summer concert. The ride is always a great way to end the summer season at Black Hawk Lake.