Woolhiser Park – a swampland tuned into a beautiful park – beginning in the spring of 1925; landscaping plans were by Professor C.H. Diggs of the State College in Ames.
WWI Boulder – dedicated in June 1927 by the American Legion in honor of the men who died in WWI from this area. In 1951 a WWII Memorial Boulder was added.
Newly landscaped park was named in honor of Dr. E.E. Speaker in 1933 who was one of the town's pioneers who arrived here as a practicing physician in the fall of 1897. 1897. He was a respected physician as well as a conservationist who especially enjoyed the study of wild flowers and shrubs. He was part of the group who were instrumental in starting the development of the new city park.
Rose Garden – began in 1962 in memory of Zoe Kettering, friend of Maude Domer with the vision that a memorial rose would last longer than flowers traditionally planted in honor of a deceased loved one. A lavender rose was traditionally kept in the garden as that was the favorite color of Ms. Kettering.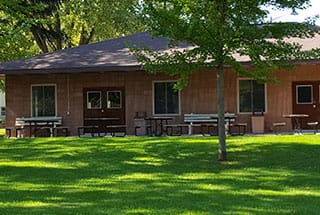 1970 to the present – various playground equipment was replaced or added to the park as well as a basketball court. The original park included a band stand and tennis court area. This particular playground choice was such an old time favorite that when it was considered for removal enough input from citizens allowed it to be repaired and enhanced.
Memorial Fountain – September 1973 – a memorial to Vincent O'Brien for his 20 years service on the Lake View Park Board.
Open shelter House – built in October 1976 – by the local Jaycee organization was later moved to a different location when an enclosed shelter house was constructed by the local Men's Club in 1986.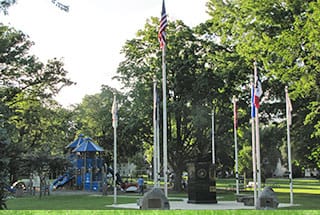 Enclosed shelter House – June 1986 – by Men' Club with Centennial funds. It is a frequent use for such fund raisers as pancake or waffle feeds, especially during the town's annual summer carnival as well as used for weddings, garage sales, graduation events and has been the headquarters for 3 of Iowa's RAGBRAI events.
2016 – Dedication of the Veteran's Memorial Plaza.